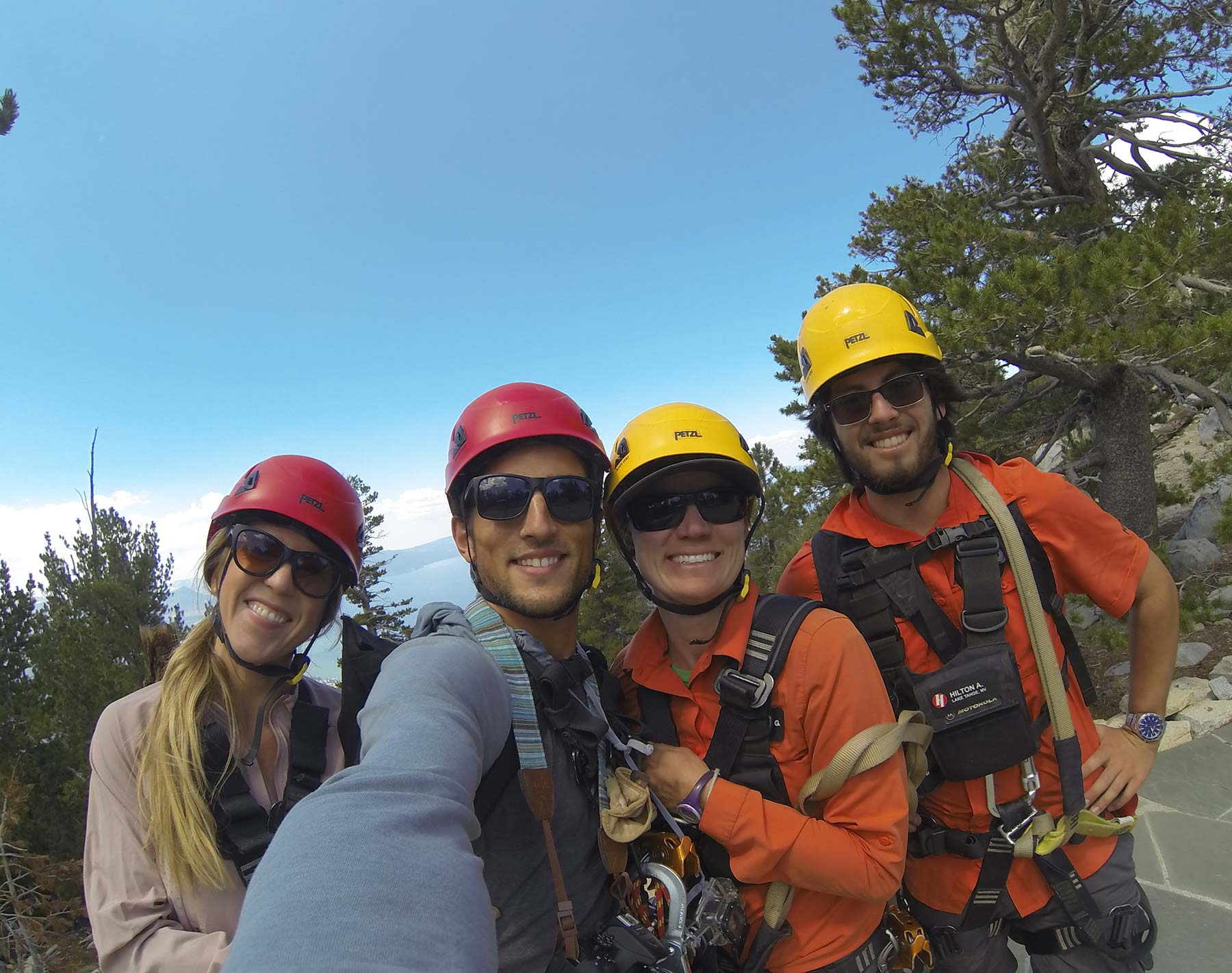 Summer in Tahoe: A Heavenly Adventure
When my husband surprised me with a trip to the Heavenly Lodge at Lake Tahoe, I didn't even hesitate to say yes. It was our three-year anniversary and my 32nd birthday was coming up, so we could celebrate both big moments, plus it was a location on my bucket list. I was a little hesitant letting him do all the planning, but he had it all covered from the tickets to the lodging to the activities, so all I had to do was pack and relax.
It's hard not to have a slight fear of heights. But the excitement keeps me jetting over any ocean to explore a new country or snowboard down a black diamond mountain in a heartbeat, but sometimes bravery can hit a wall when it comes to real heights. My trick to this is to harness my inner badass and just go for it!
However, I will say that this gondola ride is worth overcoming the fear. And I promise you, it's a smooth ride, so relax your grip and open your eyes. Let your brain gloss over the fact that you're dangling up in the air and allow it to be overwhelmed by the tremendous surrounding beauty. Everywhere I turned my head there was a breathtaking view of the natural surroundings.
Halfway up the gondola is lookout point, which cannot be missed. It only stops on the way up, so I should take it all in. And I did. Lake Tahoe shimmered nearby in all different shades of blue. Little white boats dashed across the water's surface like snowflakes. Above the lake were the surrounding Sierra Mountains lush with green summer trees. It was a perfect panorama view of Lake Tahoe's beauty in its entirety.
After riding the gondola it's time to break even further out of your comfort zone. I booked an Ultimate Adventure Pass for our stay, which meant that we had a whole list of activities to choose from. We decided on the Discovery Ropes Course that took us through the treetops, giving us an up-close view of the serene forest. Since we are very competitive, we raced to the end of the course under the bet that the loser would buy the winner a drink. My winning glass of champaigne never tasted better. The Tamarack Lodge has a mini selection of wine and beer, but it's the perfect accompaniment to a healthy salad lunch. With enough adventure—and food—under our belts for one day, we spent the rest of the afternoon playing corn hole and foosball in the Lodge.
The next day my husband suggested going tubing, but I only had one activity on my mind: The Silver Rush Zipline Tour. We made our way up to the Lodge, took an Easy Rider Chairlift, and then after a short hike we had reached our destination. The zip line fits eight people, but it was only our super friendly guide and the two of us this morning. There are five zip lines total and each one gets progressively longer, faster, and for some, scarier. All together that's more than 4,000 feet of flying through the sky. At each new zip line, I swallowed my fears—and maybe my gum—and took the plunge. Three hours flew by, leaving me wanting more.
It sounds cheesy to say, but the entire trip was picture perfect—minus a little too much wine one night, but it was well worth it. The Heavenly Lodge and Lake Tahoe provided us with so much beauty, adventures, and memories that I didn't' miss the chance to book a surprise trip for my husband around Christmas. Summertime was flawless, and I can't wait to see what winter has in store.