New option for entrepreneur travel: Singapore Airline Premium Economy
Singapore Airlines Premium Economy Class is finally coming to the US in early 2016 and is sprinkled with perks that are sure to make any frequent traveler feel fly.
While SIA isn't the first to offer "premium economy class" (Virgin has been doing this for years), they have set a new standard on the halfway point between business and standard economy class.
In order of importance, here are the top new perks of the Premium Economy perks:
Premium Champagne
I don't need to explain to you why a high quality bubbly is my number one reason for jumping on board with SIA's premium economy class. Stop being so judge-y. I'll be over here popping bottles.
Comfortable, Roomy Seats
Gone are the days of worrying if your cabin seat will accomodate your diva-sized personal bubble. SIA's large leather seats offer more room every-which-way. An adjustable winged head rest, calf-rest and foot-rest ensure that all passengers hands and feet remain inside their designated seat at all times.
Personal Storage Space

Frustrated with the overhead bins? Yeah… me too.
Whether you are working or resting up, you can keep everything you need in the dedicated storage areas for easy access even when the seatbelt sign is glowing red.
Power Outlets

If you're working on your flight, the tray table doubles as a spacious and solid work surface. There are also outlets and USBs to power your electronics for the duration of the flight.
Book the Cook Meals

Unfortunately I haven't yet reached a place where I'm financially able to travel with my personal chef… or hire him in general…
Thankfully, SIA has a solution to hold me over until that day comes. Using their Book the Cook service, you (or your travel agent if you're still into that sort of thing) can book your meal ahead of time ensuring that there's no reason for you to go all Veruca Salt on 19B for taking the last grilled chicken.
The cuisine varies by departure city, and features between six to ten selections per flight. Choose from Singapore and Asian flavors, such as thai style prawns with Jasmine rice or the dim sum medley, to international classics including a roast salmon fillet with noodles or french toast with orange and jam for breakfast.
I wonder if there's enough room in the premium economy aisle for a post-meal yoga sesh?
Ban on Babies

Okay, so I don't hate babies, I'm just confused by their behavior. No one wants to hear screaming on a plane, from anyone of age, and unless you're watching The  Notebook, I simply don't accept crying fits. Furthermore, as much as I enjoy the rhythmic kicking of your 5-year-old, I don't make a habit booking shiatsu massages whilst flying internationally.
While a "baby ban" may not be entirely accurate, SIA smaller cabins are designed to be a quieter experience, perfect for the traveling entrepreneur.
Christopher Nurko, Global Chairman of Futurebrand, sees the premium economy cabin as the perfect "safe zone" for entrepreneurs who travel on business without a generous corporate budget to fund their trip.
Traveling entrepreneurs, myself included, want a quiet place to work or rest, with the amenities needed for a productive flight, and the comfort needed for rested travel.
High Def Entertainment

I gave up TV a few years ago for productivity reasons, a decision mostly influenced by The Hubs. Once my offline work is complete, I use international flights to play catch-up on all my guilty pleasures… and with more than 1,000 on-demand options, I expect to have my watch-list covered. Now if only they could increase watching speed like I increase my listening speed for podcasts.
SIA's in-flight entertainment system boasts the largest screen in its class with a 13.3-inch HD monitor and an advanced LCD touchscreen. On the off-chance you can still hear a crying baby from your upgraded seats, your premium entertainment system also comes equipped with noise-cancelling headphones. You're welcome.
Is it worth it?
Marisa Garcia of Skift seems to think so.
"After seeing the product first hand, we can say that in this case pictures paint insufficient words. We could write many more, but to keep it simple: The perks and extras are bound to encourage plenty of repeat customers."
Singapore Airlines Executive Vice President Commercial, Mak Swee Wah persuades travelers to try to new service stating:
"Customers can expect to be pampered. Many of our customers have been asking for a Premium Economy offering and we are confident that what we are delivering will exceed their expectations."
Here are some photos from Singapore Air's website: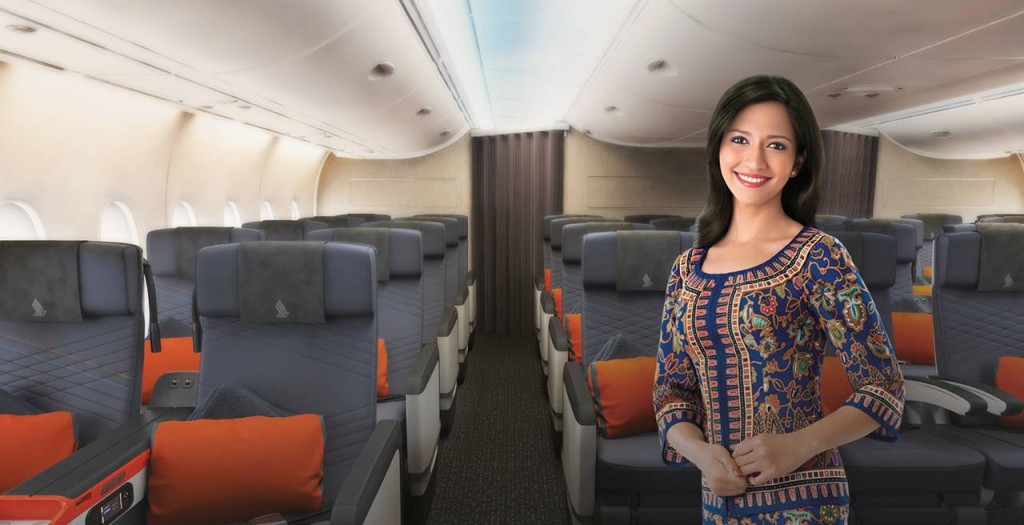 How do you feel about Premium Economy? Would you book it? Tell me in the comments!