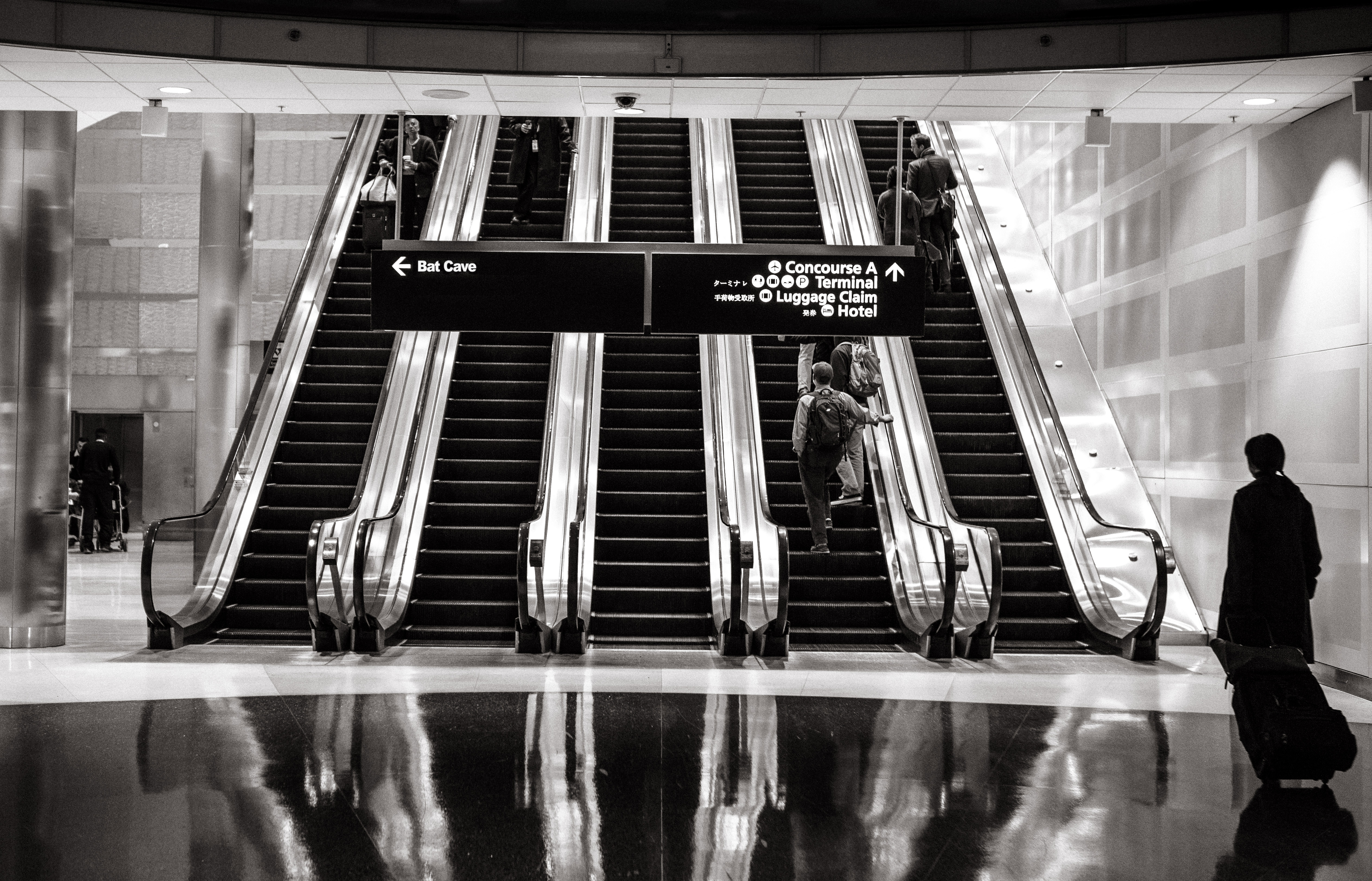 Secret on-the-go airport travel hacks from real airport workers
Let's face it, airports are sort of the worst. Anyone who has flown through Paris, Kuala Lumpur, or even Atlanta can probably attest. But for every screaming baby, the lack of electrical outlets, and over-priced, mediocre food, there is a tip for how to make your travel through an airport more enjoyable.
Let's turn to the experts for advice.
"Airport workers of reddit, what are some travel secrets travelers aren't aware of ?"
(Thanks for asking, ettiol)
1. Save Money with Free Luggage Carts
Avoid paying $4 for a luggage cart in baggage claim by going outside to the pickup area. There are usually a few outside at the curb that people abandon when they get picked up.

Bonus: SmarteCart gives a $.25 reward from the machine when you return a cart.

EDIT: For those who asked, this is in Houston and I know they charge in Boston as well. At least in Houston the carts are free for passengers arriving into the international building.

-Inthe713
2. Tell Your Rental Car Agency Your Flight Number So You Aren't Left Stranded
If you're flying into a smaller regional airport later in the evening and renting a car, put your flight number somewhere in the car rental reservation.

Most of these smaller airports close after the last flight lands. And some rental agencies don't require their employees to stay for late flights if they don't have someone on the flight.

-i_me_me
3. Get Free In-Flight Movies
I know a flight attendant and he changed my life with this tip: If you have a flight with the TV screens on the seats you can swipe pretty much any card with a magnetic strip (e.g. AAA card or empty Burger King gift card) and you'll get to watch free movies and TV for your entire flight.

-CapnFran
4. Stay Hydrated for Free
Bring an empty water bottle (nalgene type or simple plastic) into the airport. Fill it up at a water fountain once you are past security. Now you don't have to pay $3.00 for water.

-ndrew452
5. Call the Airline Instead of Waiting in Line for Flight Changes
If your flight is cancelled or overbooked, don't join the long line of people harassing the gate attendant. Call the airline's 800 number and the operator can do just about anything the gate agent can.

I have walked by more than 100 people waiting in line after calling the airline instead.

-20Questions
Disclaimer:
RE: #5. I wouldn't suggest this in the EU, since the gate agent is required by law (Reg 261/2004) to provide meal vouchers. You could walk away with some free food.

-eat4fun
6. Get VIP Access to the Emergency Row
If you get to the gate early and ask the attendants at the desk if there are any available emergency rows. They will usually switch you to a emergency exit row for free.

-(since deleted)
7. Get the Best Seats on the Plane
Check which seats are the best for every airline and plane type at http://www.seatguru.com/.

-Don_Tom
8. Overpack Your Carry-On with NO Consequences
Holy shit, I actually can contribute to this. If you overpacked, or bought a bunch of shit on vacation, go to any Hudson News Group airport gift shop, and ask any one of the friendly, knowledgeable staff to give you a big shopping bag.

You can put all your crap in there, and the airline can't tell you it's an additional carry on, because it'll look like you bought it from the handsome, charming young man at the Hudson News Group airport gift shop.

– Weeperblast
9. Get Free WiFi at the Delta Lounge
The Delta airlines wifi password is usually "thankyou". You'll need to be near the Delta lounge or near the pilot's or flight attendant's lounge, of course.

-everycredit
10. Skip the TSA Lines Like a Boss
You can skip long TSA lines, and you won't have to remove shoes, belt, etc.

It's called TSA Pre, and almost any USA citizen will get approved. Simply fill out an application, pay $85, and wait. This is worth it if you're a frequent flier.

http://www.tsa.gov/tsa-precheck/application-program

-glompulin
11. Arouse Yourself Without Arousing Authorities
I work as a Ramp Agent/Baggage Handler in the UK, ladies (or men, who am I to judge?). For the love of all that is holy take the batteries OUT of your vibrator before putting it in your luggage. If we find a vibrating bag we have to report it to our supervisor as it means the bag at the very least has batteries inside, a lot of which are classed as dangerous goods and aren't allowed in an aircraft hold.

More importantly if its vibrating we will get the bag identified and the vibrating stopped. Which means you'll be called outside of the aircraft to come to the bottom of the steps, identify your bag, open it, take out the vibraror and switch it off. With all of the team of (mostly) men watching, as well as the rest of the passengers.

Don't want to be made to show everyone your vibrator? Take the batteries out before flying.

-GRIMMMLOCK
Thank you Grimmmlock. That was a close one.
There you have it, folks. From hacking free wifi to powering down your pleasure stick, these super secret tips from airport employees should help you make the most of your next airport experience.
Still want more? Check out how to make your economy seats more like business class.
Now, sit back, relax, and enjoy your flight.